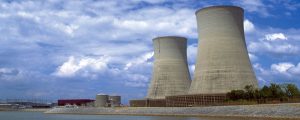 A low-carbon future requires more than investment in renewable energies, it demands good jobs backed by strong labor standards and the inclusion of baseload sources for grid security, International President Lonnie R. Stephenson told members of Congress this week.
Testifying via video Sept. 16, International President Lonnie R. Stephenson tells the House Subcommittee on Environment and Climate Change that a low-carbon economy must include labor standards, baseload power reliably and American union jobs manufacturing solar panels, wind turbines and other green-energy materials.
"Supporting traditional baseload generation and reducing greenhouse gases are not mutually exclusive," he said, testifying at a Sept. 16 virtual hearing before the House Subcommittee on Environment and Climate Change.
Democrats called the hearing to explore how federal action on climate change can revive the economy and benefit American workers.
"An ambitious recovery effort focused on climate action will give us the tools to build back better and stronger, and create millions of new, good-paying jobs," said Rep. Frank Pallone, chairman of the Energy and Commerce Committee, which oversees the subcommittee.
Stephenson, one of four witnesses invited to speak, told the panel that IBEW members "are already working on the front lines of climate change."
"We are proud to be building and maintaining new, zero-carbon power generation sources, from large-scale solar installations in the desert of California to offshore wind farms off the coast of Rhode Island," he said, adding that inside wireman are retrofitting older buildings for energy efficiency, and that construction and utility linemen nationwide are being deployed to Western and Gulf states in the aftermath of the devasting fires and hurricanes.
"The climate crisis is real and urgent and poses a threat to our nation's long-term prosperity," Stephenson said, calling for urgent but responsible federal action.
"The IBEW supports Congress developing a stimulus plan that would create over a million family-supporting, union-friendly jobs to rebuild our nation's infrastructure, lower greenhouse gas emissions and mitigate the impacts of climate change," he said.
He laid out three essential elements in any federal plan: labor rights, baseload generation and advanced manufacturing.
"For our members and all workers, it is critical that Congress attach strong labor standards to future low-carbon stimulus legislation," he said, specifying prevailing wages, project labor agreements and a mandate that employers respect their workers' right to join a union.
"These are some of the best policy tools available to ensure the green economy will create family-support jobs and provide equity for all workers," he said.
Stephenson explained that baseload sources, including coal, gas and nuclear power, can't be abandoned, urging robust federal investment in carbon capture and advanced nuclear technology to lower emissions while ensuring grid reliability and preserving jobs.
Noting the 14,000 IBEW members who work at nuclear plants, Rep. John Shimkus, the panel's ranking Republican asked about continuing benefits of nuclear power.
"It's a huge piece of the puzzle," Stephenson said. "Nuclear is zero-emissions, and with current facilities and the new next generation of nuclear, it's a great opportunity to make sure we have a reliable clean baseload when the wind's not blowing and the sun's not shining."
He said the IBEW also views a low-carbon economy "as America's best opportunity to reinvigorate our manufacturing sector," as long as Congress acts to support green-industry jobs before the sector is fully dominated by China and other foreign competitors.
Several House members asked about ways that unions can help ensure the transition to a green, middle-class economy leaves no workers behind.
"Training and education," Stephenson said, describing the rapidly growing diversity of IBEW and other building trades' apprentices.
"We've got training facilities all across the country, in every state," he said. "We are in a position to bring these new workers into our programs, get them the training they need to be successful and lead the industry as these new technologies and new opportunities open up."