Skilled Workforce
While there are many advantages to becoming signatory with Local 567, the most important advantage is having access to the region's most highly skilled and highly trained electrical workforce.
From the time one of our members becomes an apprentice, they are placed into an intensive registered apprenticeship program, where they build their skills while learning on-the-job from experienced journeymen. To supplement this on-the-job training, apprentices also learn from accredited instructors in the classroom.
Local 567 signatory contractors are able to adjust their manpower based on the size or complexity of their job. If they need to increase manpower because they are working on a larger job or need to decrease manpower because work has slowed, they can do so. If a contractor needs someone who has a certain certification, then they can request the Local send them tradesmen or tradeswomen with that certification.
No matter the size or scope of the work, IBEW Local 567 will be able to man the job – even if it requires bringing in travelers from other IBEW Locals.
Increased Market Share
Every business wants to increase their market share, and electrical contractors are no different.
By becoming signatory with IBEW Local 567, an electrical contractor expands their ability to bid on projects, which may have been too large for them in the past. The ability to staff projects with Local 567 members opens up opportunities to bid more competitively.
NECA Membership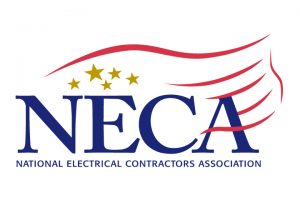 Another advantage of becoming signatory with Local 567 is the membership to the National Electrical Contractors Association (NECA).
IBEW Local 567 signatory contractors are members of the Boston NECA chapter. With this membership, they gain access to training programs, advocacy for the use of NECA contractors and much more.
Quality Training
In addition to the above benefits, when an electrical contractor becomes signatory to Local 567, their existing employees gain access to the best training in the industry.
If a journeyman wants to further their learning, continued education is offered. This can include upgrade safety courses, ICRA training and much more to keep experienced electricians update on the latest industry developments.
Whether it is completing the apprenticeship program to earn journeyman status or taking an upgrade safety course, your existing workforce will have all training provided to them.
The advantages of becoming an IBEW Local 567 signatory contractor are plentiful. From valuable training for your existing workforce, to the increased opportunity to bid on large projects, IBEW membership provides plenty of advantages.
Contractor Success Stories
The International Brotherhood of Electrical Workers Local 567 welcomes a new signatory contractor to our family – Moulison North Corp. They have extensive airport runway …