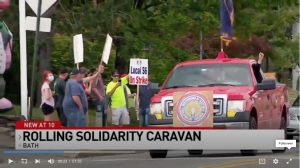 IBEW Local 567 proudly supports the mission of organized labor and is ready and willing to support the efforts of fellow Brothers and Sisters from other unions — even during a pandemic. 
On June 21, members of International Association of Machinists and Aerospace Workers Local S6 went on strike against Bath Iron Works (BIW).
Several weeks later, members of IBEW Local 567 joined members of other labor unions and supporters of labor in a caravan to support the striking Ship Builders.
The strike began when the S6 union members overwhelmingly rejected a contract ratification vote, which BIW claimed was its last and best offer. 
According to the union's website, the major issues between BIW and S6 relate to seniority and the use of non-union subcontractors.
Several weeks into the strike, Local 567 members were happy to support fellow members of organized labor.
"I am an IBEW union member, and I support all my union Brothers and Sisters, and I just think that it's worth all of us to get out there and show support, and make sure everybody in the United States has a living wage," Local 567 member Stacey Timberlake said during an interview on WGME-TV.
Another IBEW Local 567 member likened the situation to being for the benefit of all labor unions according to WGME.
"A good contract only elevates all of us. A rising tide lifts all boats," Dash Padham told WGME.
Once the strike began, Bath Iron Works announced it would begin to layoff its union workforce and hire temporary workers. 
Already six months behind in delivering their latest destroyer, BIW's attack on Local S6 has the potential to impact the entire economy in Maine. 
Showing solidarity in labor, especially to fellow area Local Unions is important. Supporting each other when workers are being treated unfairly is what we do as a Local union.
To read the entire news story from WGME 13, click here.