A career with the IBEW provides more challenges than the day-to-day monotony of working in a factory.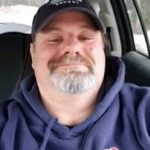 IBEW Local 567 member Corey Martel is a perfect example of someone who decided he would rather build a factory, than assemble parts in one.
After graduating from high school, Martel thought college would offer him the best career opportunities. However, he soon learned college was not for him.
He then tried to follow in his father's footsteps by working at a local factory, but discovered this line of work was not for him either.
Soon, he bounced from job-to-job, and even gave college a second try. Unfortunately, nothing made Martel happy.
He decided to go back to the factory life and accepted a life of inhaling dangerous chemicals and not being paid his worth, in a job where conditions seemed to worsen every year.
One day, the factory where he worked hired an outside electrical contractor to perform some work.
"Electrical work was always something I had been interested in, but knew nothing about," said Martel. "I picked their brains about their job for a couple days. I was at the end of my rope with factory work."
In 2007, he took the leap and successfully applied to the Local 567 JATC.
"It was the best decision I ever made," Martel said. "Work was slow at first because of the recession, but I stuck it out. Now, 13 years later I am a licensed master electrician with multiple certifications, zero debt and making more than three times what I made in the factory.
"I have forged lifelong colleagues and friends and learned valuable lessons about comradery and solidarity along the way. My only regret is that I didn't join the union sooner," he added.