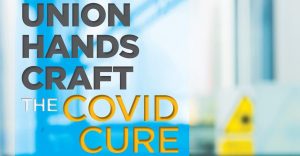 January 5, 2021
One year after the first cases of COVID-19 were diagnosed in North America, vaccines from Pfizer, AstraZeneca, and Moderna are on the verge of becoming widely available.



                                                                                          Pfizer's vaccine is a nationwide effort, with precursors made in labs built by members of St. Louis Local 1 (top),

industrial production of the vaccine in plants built by members of Boston Local 104 (middle),

and formulated and bottled by members of Kalamazoo, Mich., Local 131 (bottom).
Photo credits: Pfizer
And while IBEW members are not the scientists creating those vaccines, they have been nearly as integral to the discovery, production, and distribution process as any biochemist or virologist on the planet.
From decades of building and maintaining pharmaceutical research labs to setting up new production facilities practically overnight, IBEW tradesmen and tradeswomen have been at the forefront of the pandemic response from its earliest days, and their efforts — along with those countless others around the world — have brought us to the verge of a monumental breakthrough that will save countless lives and restore order after a year of COVID-19 chaos.
"Without a doubt, the vaccine that will end this scourge has and will be brought to you by the skilled craft unions. They are every bit as important as the person working at the lab bench they built," said Tim Dickson, director of the Pharmaceutical Industry Labor-Management Association.
The vaccines from Pfizer, AstraZeneca, and Moderna are scientific achievements with few parallels in human history, victories won by researchers, and the craft and trade workers who know how to take their ideas and transform them into enough medicine to heal an entire world.
According to a 2018 PILMA study, union density in pharmaceutical jobs in the U.S. is 80-90%, and the reason is clear: quality.
"It's intuitive. Millions of lives and billions of dollars hang on the effectiveness, the reliability of these facilities. These clean rooms and fume hoods — there are tons of inert and active molecules. You can't go cheap," Dickson said. "You don't go to Piggly Wiggly and get day workers to build a cleanroom. "
Between 2012 and 2018, nearly $14 billion was spent on pharmaceutical construction, and nearly one-third of those man-hours were electrical. And construction has exploded with emergency vaccine funding. Industrial Info Resources, a clearinghouse for construction projects, listed 70 active jobs in December that were COVID-related worth nearly $2 billion.
Across North America, IBEW members are making the vaccine possible and bringing it to the world.
Finding a Vaccine
By the time herd immunity is achieved and life returns to whatever the new normal will be, many companies will be producing many vaccines. According to the New York Times, 57 vaccines are in clinical trials around the globe with several different strategies.
How to get the vaccines from the labs to 7 billion people is incredibly complex. But it can be better understood through the work IBEW members have done on the Pfizer/BioNTech vaccine, the first one announced and the one furthest along in early December.
The vaccine itself was developed by BioNTech, a small biotech firm in Germany with no real production capacity of its own. It partnered with the U.S. biotech and pharmaceutical colossus Pfizer to help run the elaborate human trials, take the experimental vaccine and turn out hundreds of millions of doses and distribute them around the world.
Making the COVID-19 vaccine project even more astounding is that the Pfizer/BioNTech vaccine uses entirely new technology. Vaccines don't cure diseases; they give the body a head start fighting off disease by teaching the immune system how to combat a virus that may never arrive.
Traditionally, vaccines have worked by injecting bits of proteins stripped off dead or shattered viruses to introduce the immune system to its potential foe before an actual invasion.
Pfizer and Moderna are instead injecting designer genetic material into muscle cells, converting those cells into infinitesimal biotech factories, pumping out the proteins that form the coronavirus's shell. The body teaches itself what to look for. This would have been impossible as recently as five years ago.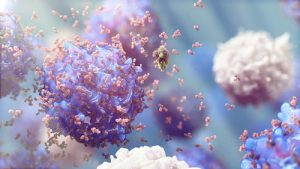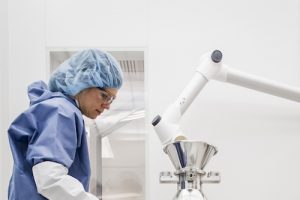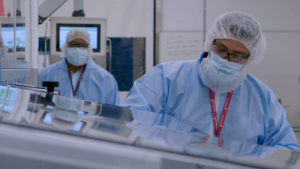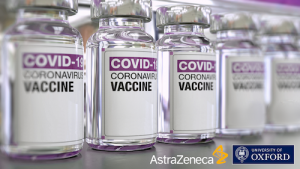 Because the standards for cleanliness and constant operation are so high in biotech and pharmaceutical facilities, unions do between 90% and 95% of all work in the industry.
All photo credits: AstraZeneca
America's Research Heartlands
While the Pfizer vaccine was developed overseas, the IBEW has built most of, if not all of, the major pharmaceutical and biotech research facilities in the U.S.
Of the $14 billion in pharma construction in the PILMA study, nearly 60% was in California and Massachusetts.
The heart of California's biotech industry is in the Bay Area, with its center just south of San Francisco in the jurisdiction of San Mateo Local 617.
"God only knows how many biotech companies there are around here," said Local 617 Business Manager Dave Mauro. "And new ones are starting all the time."
The largest — Genentech, Gilead, Amgen, and AbbVie — have huge campuses, including dozens of labs and office buildings. Genentech's were first built in the 1980s and have been regularly expanded since.
Mauro estimates that for about the last 30 years, around 50% of the local's work hours have been in the biotech industry and offices. And, as other work has slowed because of the pandemic, that number is rising, he said, to 70% and possibly as high as 80%.
"I imagine we miss out on the tiniest start-ups, a kitchen remodel here and some small office remodeling there, but the labs? The research buildings? That's as close to 100% as anyone could get," he said.
The story is nearly the same on the other side of the country.
"Cambridge is like the epicenter for vaccine research and modern biotech companies," said Boston Local 103 Business Manager Lou Antonellis. The high concentration of universities spins off projects from researchers and graduates that stick close to home, he said.
Two projects in PILMA's study — Vertex's Fan Pier Biotech R&D Center and the Cambridge Vaccine and Diagnostics R&D Center Expansion — cost a combined $1.5 billion. Those were both Local 103 jobs.
There were nearly $200 million in COVID-related projects in Massachusetts as of early December. Antonellis said that while you don't think about it every second that you're on those jobs, you don't forget what is at stake either.
"You don't think, 'I am helping to find a cure for COVID or cancer,' but we know our work has great meaning," he said.
St. Louis
Once the initial building blocks of the vaccine are created by researchers, the mass production process begins.
For Pfizer, that will happen in Chesterfield, Mo., on the outskirts of St. Louis, where the first ingredients of its vaccine are produced.
St. Louis Local 1 only finished work on the $250 million facility last year — $22 million in electrical — said St. Louis Local 1 Business Manager Frank Jacobs, who himself was laid low by COVID in the fall. "Our members don't always know what the end product is they are working on," he said. "I'm sure those members will take pride in knowing their work will be part of ending the pandemic."
Pfizer is also a solid customer, he noted. "We have never lost a job on Pfizer's campus to a nonunion contractor."
Scientists at Chesterfield use minute electrical sparks to tear holes in E. coli bacteria. A ring of designer DNA identical to those spikes that give coronavirus its name enters the bacteria through the holes. As the bacteria replicate billions of times in stainless steel vats, so does the spike protein inside the cell.
After four days, the bacteria are killed and torn open and the viral protein spills out into a soup of proteins and cell parts that is filtered and purified over the course of 11/2 weeks until just the virus protein remains.
Then it's back to Massachusetts, to Pfizer's Andover facility. IIR lists three lab expansion projects there worth $20 million just for Pfizer.
According to the Washington Post, the Andover scientists take the DNA grown in Missouri, put it in an incubator with genetic building blocks to create messenger RNA, the designer genetic bullet which transforms muscles into protein factories. The purified messenger RNA is frozen to minus-60 degrees Fahrenheit and stored in plastic bags the size of kitchen trash bags. Each one holds enough mRNA to make 5 million to 10 million doses of vaccine.
"We are building and maintaining those buildings every day," Antonellis said. "We are at the forefront. Only we have the technical capability to do that work."
From there, the bag is hung on a special frame for handling, put on trucks and driven to Kalamazoo, Mich.
Kalamazoo
For the past several months, Kalamazoo Local 131 members have been retrofitting a warehouse on Pfizer's campus there, installing hundreds of industrial freezers that can maintain temperatures 90 degrees below zero Fahrenheit.
"There are a lot of instrumentation and control processes and lots and lots of power drops to those freeze driers," said Business Manager Brian O'Donnell.
Before Pfizer bought the campus, it was owned by pharmaceutical manufacturing pioneer Upjohn, and for nearly a century, Local 131 members were the only electrical workers who set foot there. O'Donnell said between one-quarter to three-eighths of the annual work hours are on the Pfizer campus for his 400-member local.
"Historically we had 75 to 100 wiremen working there all year long," he said. "You could spend your whole career there, from your apprenticeship to retirement and never leave."
Pfizer already has contracts potentially worth more than $2 billion if they can deliver a working, mass-produced COVID-19 vaccine. O'Donnell said he suspects that an empty warehouse on campus will house a new production line.
"Once the vaccine is a go, I am sure we will build out that dedicated building," he said. "There could be a huge rush for manpower, but there is no conversation yet."
Pfizer's announcement that its vaccine had nearly completed Phase III of its human trials with greater than 90% effectiveness means that day may not be far off. As of early December, Pfizer had filed for emergency approval to roll out the vaccine and the FDA was reviewing the safety data from the trial. [Update: FDA did approve the Pfizer and Moderna vaccines in December and the first vaccinations began soon after]
When production begins, the messenger RNA will be taken out of the freezers and combined with what the company calls "lipid nanoparticles" and ready to be put in vials. At the moment, the machines that do that formulation work are too small for global production. Replacing them will be Local 131's job.
Once the vaccine has been formulated, it is handed over to the filling team, which currently runs two lines — the fastest of which can fill nearly 600 vials a minute. Those vials are then put in boxes and frozen to minus-70 degrees Celsius, or minus-94 Fahrenheit.
"Pfizer called and asked about manpower and the Code of Excellence and I sent them a presentation from Business Development. We did not hear back, but I don't think it went out to bid either," O'Donnell said.
He expects signatory contractor Moore Electric, who is already on-site, to have a good shot at the work. "We like to think the Code of Excellence had a lot to do with that."
If it comes, O'Donnell doesn't expect the call to be more than 40 or so members.
"It's not a huge call, and this isn't exotic stuff. This is familiar work, day-to-day, just a different medicine," he said. "But the importance is not lost on anyone on what we are trying to create, how it could turn our country around. It gets its relevance from that."
Indiana
Not all the formulation, bottling, labeling, and shipping work will be done by Pfizer. The scale is too vast even for a company of its size.
One of the most important centers for pharmaceutical bottling and labeling is in Bloomington, Ind., where dozens of IBEW members from Terre Haute Local 725 and travelers are working nearly around the clock to get it ready.
The facility, owned by Catalent Pharma Solutions, has contracts with Pfizer, Johnson & Johnson, and Moderna.
Work at the Bloomington site started in February, before the massive spread of the novel coronavirus, said Local 725 Business Manager Todd Thacker.
General Foreman Greg Sutton has been working at the plant for Cassady Electric nearly the entire time it has been a pharma plant. The original plan for this project, he said, was a simple expansion of an existing production line, and Cassady partnered with St. Louis signatory contractor PayneCrest to do the work.
Then the pandemic changed the world and the scale of the job. In April, Johnson & Johnson signed an agreement with Catalent to package any vaccine it develops and prepare it for distribution — possibly billions of doses.
From no overtime and a single shift of about 15, they moved to two shifts a day, working 58-hour weeks, and from a line expansion to tearing down the older wing of the Catalent facility and starting a bottom-up build to house the expanded drug product manufacturing department.
By May, calls were coming in for more workers. They signed the deal with Pfizer. Then another call for more workers and in June, Catalent announced the partnership with Moderna.
"We didn't know until early July that this wasn't a new line but a new $100 million, 72,000 – square-foot building," Thacker said. "In September, they accelerated the work, moved the finish date to October and tripled the manpower. These were essential workers in the truest sense."
The line is far different from most production work, Sutton said, but not for workers familiar with pharmaceutical plants.
"The cleanrooms are highly controlled environments, lots of air handler controls to keep the environment clean and the process equipment is very high tech," Sutton said.
By mid-May, Cassady had just over 45 Local 725 members on-site, said Sutton, with a peak in late fall at about 60 when the fill-line equipment arrived.
All of this is only a part of the production of one of the vaccines. Dozens of other companies are involved in producing vaccines and the equipment and processes to distribute them.
Baltimore Local 24, for example, has more than 150 members working on COVID-related projects for AstraZeneca, Catalent, Emergent BioSolutions, and more may be on the way.
"We did soup-to-nuts production line facilities, wired labs, installed refrigeration equipment, process controls, and lighting," said Local 24 Business Manager Pete Demchuk.
Local 24 has about a dozen members working on an Emergent facility where the company's vaccine is being produced.
"We are putting in freezers, automatic transfer switches, and emergency generators. Lots of temporary, outage and standby work as we move things around to replace generators," he said. "There is no do-over with this stuff. The only option is the unquestionable quality."
Until the Vaccine Arrives
Since its arrival in North America last January, more than 8,000 of our brothers and sisters have been stricken by COVID-19 and at least 180 have died.
The economic cost is not as great as the loss in lives and health, but it has been severe. Lives not lost can still be changed irrevocably.
And there are still many things that could go wrong. There could be issues in producing mass quantities of mRNA vaccines; it's never been done. There are more traditional vaccine models on the way using pieces of weakened or dead virus. They have historically been slower to develop, but Johnson & Johnson says the production and scaling are better understood and could potentially make up the time.
With the vaccine so close, International President Lonnie R. Stephenson said, now it is up to everyone to protect themselves, their brothers and sisters in the IBEW, and their families. IBEW members in every branch have worked tirelessly since March to do the essential work of keeping the lights on, building hospitals, manufacturing and transporting critical goods, maintaining communications and broadcast infrastructure and more, often at great risk to their own health. Now is not the time to relax and get comfortable.
"The simple things will work if we continue to do them: wear a mask. Socially distance. Wash hands frequently," he said. "Our members who are working on vaccine projects are indispensable, but every member and the folks in our families are all precious. Be smart, be safe, and we will get through this."