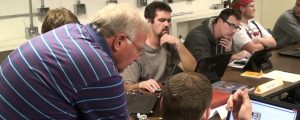 A new study by the Illinois Economic Policy Institute found that a union apprenticeship may be a better ticket to the middle class than a traditional four-year degree.
"College is a great option for some, but it's not the only path to a family-sustaining career, nor is it necessarily the best," said International President Lonnie R. Stephenson. "For a lot of people, a union apprenticeship is the smarter, more fulfilling way to go — and it doesn't come with thousands of dollars in student loans."
The study analyzed 10 years of data from the Current Population Survey's Annual Social and Economic Supplement, which is released by the U.S. Department of Labor and the U.S. Census Bureau. Among its findings was that, on average, graduates of joint labor-management, or union, apprenticeship programs in the construction industry can achieve near wage and benefits parity with other types of workers with four-year college degrees.
"The data reveals that broad stigmas that have long been associated with vocational training alternatives to college are simply not grounded in fact," said study co-author and ILEPI Policy Director Frank Manzo IV to the construction publication Contractor. "Compared with two- and four-year colleges, joint labor-management apprenticeships in construction deliver a more robust training regimen, similar diversity outcomes, competitive wage and benefit levels, and comparable tax revenue for states and local governments, while leaving graduates entirely free of burdensome student loan debt."
The study stresses the importance of the apprenticeship being run through a union in order to truly rival a bachelor's degree. A nonunion program tends to produce outcomes more on par with just a high school diploma. Regarding wages, union construction workers earn $58,000 per year on average, compared to just $39,700 for nonunion workers. And almost 90% of union construction workers have private health insurance compared with just 55% of nonunion workers.
With the increased income also comes higher contributions in federal income taxes, payroll taxes and state income taxes, with union members paying more than their nonunion counterparts as well as more than those with an associate degree.
"The data unequivocally shows that attending college is not the only pathway into the American middle class," Manzo told Contractor. "However, it is clear that the most viable such pathway in construction runs through the joint labor-management apprenticeships and the unionized side of the industry."
The report also found that union apprenticeships are more racially diverse than nonunion programs and that they typically require 27% to 41% more hours of training than public four-year universities. And a union apprenticeship doesn't come with the nearly $40,000 in debt that is the average loan obligation for college students.
The study backs up similar findings regarding what it takes to earn a living wage. A recent study from Georgetown University's Center on Education and the Workforce found that a growing number of people without a bachelor's degree are now out-earning those with one.
The Georgetown report suggests that a student's field of study, the type of job they're training for and where they live can affect their earnings more than their choice of degree.
"Your specific education has its value and the value varies enormously," said Tony Carnevale, one of the report's authors, to NPR. "That's why somebody who can do air conditioning will make more than somebody who becomes a schoolteacher."
Portland, Ore., Local 48 member Isis Harris told NPR that no one ever talked about apprenticeships when she was in high school and that she wishes she had found her way to becoming an electrician sooner.
"I think there was always a misconception about trade workers and skilled trades and the viability of that career and how it could actually provide the same type of lifestyle that a bachelor's [could]," Harris said.
A way to correct that misconception, say the Georgetown authors, is to employ more career counselors who can let students know about all of their options, not just college.
"The simple advice to high school students to 'go to college' no longer suffices," the authors wrote.
Harris graduated from her apprenticeship in December and now has a job where she's earning about $100,000 a year, enough to support herself and her son. And with the skilled worker shortage, she's all but guaranteed to get as much work as she wants. Some 321,000 construction jobs went unfilled in July, reported the New York Times. And with the recent passage of the infrastructure bill, even more workers will be needed to fill the growing demand. And those workers, if they're union members, will also have a proven path to the middle class.
"Having a decent wage or a nice income, you can do some financial planning," Harris told NPR. "You can save some money. You can plan for emergencies. You can do all those things that may not be tangible when you're living paycheck to paycheck."