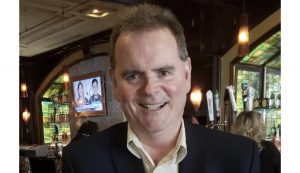 IBEW Local 1253 Business Manager Chuck Fraser will be retiring next week after serving in the position since 2013. Fraser grew up in Millinocket as the son of an IBEW electrician who worked at Great Northern Paper, but he wasn't interested in following in his father's footsteps at first. After working in the mill for a year he decided it wasn't for him. After failing to succeed at college due to lack of discipline, he decided to join the Navy.
"The Navy really straightened me out," he recalled. "After I got out I realized I could work in the mill now."
However, after the mill shut down its first paper machine in 1985, Fraser had to find work elsewhere. That's when his mother told him about an ad in the Bangor Daily News for IBEW apprentices and the rest is history.  "It was cool when this happened because it was like, now I am going to follow in my father's footsteps, but it wasn't intentional," said Fraser. "It was shit luck."
While he was working his first job on the number two paper machine at the Somerset Mill around 1985, the local's vice president noticed Fraser reading the Boston Globe on a break and saw potential in the bright young apprentice. From then on, he would introduce Fraser to other members by saying, "This is first-year apprentice Chuck Fraser. Chuck's going to be the business manager in 1998."
That planted the seed. Although Fraser didn't end up running for business manager in 1998, he did serve as the local's organizer for nearly a decade beginning in 1992. During his tenure as organizer, membership in the local grew from 254 members in 1992 to 340 when he left in 2001. In the 2000s, as the paper industry declined, the Great Recession hit and work dried up, membership dipped to 170 members. But by 2018, IBEW 1253 had the ninth highest per capita IBEW membership increase in the whole country. With good organizing, the growth of the solar industry and winning contracts with several commercial customers, membership is now up to 260 members.
Fraser said he's a learned a lot about how to get work for members from observing the industry over the past 36 years. Back in the 1970s — before the other IBEW locals in Bangor, Bar Harbor merged into IBEW 1253 in Augusta —IBEW electricians controlled the commercial market in eastern and central Maine. However, they ended up losing a lot of those contracts when they started taking better paying gigs in the mills. Then in the 1990s as the paper industry began its decline, the union had to find its way back into the commercial market.
"It was hard going," Fraser recalled. "We had to cut wages and come up with incentives and stuff. It was a struggle, but now it's 25 years later and we're doing very well in the commercial market with the clients like University of Maine, Colby College, Jackson Lab, Eastern Maine Medical Center, Maine General, Pen Bay Medical Center. These clients have supported us by giving us work and they're not going anywhere."   About 30 IBEW 1253 member are regularly working in paper mills, including Sappi, Huhtamaki and the Old Town mill, which ND Paper reopened in 2019. Union electricians rebuilt Sappi's number 1 paper machine in 2018 and now the company intends to also rebuild its number 2 and 3 machines. Other industrial projects in the pipeline for the local include the construction of a salmon farm in Bucksport, an expansion of Jackson Lab in Ellsworth as well as projects for Colby, UMaine and various hospitals.
Fraser said the union is very focused on organizing new members, which is why it has been able to thrive in Maine over these past forty years. Still, it can be challenging to recruit some electricians because they're not familiar with unions and don't necessarily appreciate the value of good benefits like health care coverage and pensions.  "We are getting a lot of young people applying for the apprenticeships, but as far as electricians ages 30-35 and older, it's tough to get them interested in unions," he said. "Having a trade just makes you independent and if you're an electrician, pipe fitter or ironworker, there's an attitude of 'I don't need anybody.' It's also tough because anti-union contractors will tell them, 'you'll never work if you join a union, which is simply not true. If you're a good electrician and you come to work every day and on time, you're going to work."
Union electricians make good money, but one of the most valuable benefits of being part of the union is the retirement security, which is not a benefit non-union workers enjoy. The challenge is to convince someone in their 30s that they need a pension and an annuity, but many IBEW 1253 retirees have built up massive retirement savings with their annuities.  "When the market was at its peak eight months ago, our pension went over $50 million. We need to really broadcast that," Fraser added. "300 participants and $50 million here. Come be part of this! You want to travel? Go travel. You want to just buy a camp and live on the lake and lock yourself away from all of the craziness in the world? You can do that too. I'll ask younger electricians, 'where you going to be when you're 62? And they'll say, 'I'll worry about it then.' No! You need to think about that now."
Fraser said one of his biggest regrets as an organizer back in the '90s was not working harder to recruit a more diverse workforce. He says he wished he had brought women members and people of color with him to career fairs and school functions to inspire a more diverse group of young workers to apply.  "I was so short sighted back then. Women represent 50 percent of the population and we're struggling to bring in new members. It's stupid that we basically eliminated 50 percent of the population for years and years," he said. "Lately, we've been growing the number of women and African-Americans in our membership, but young people need to see people who look like them in the trades to become inspired to pursue a career."
Fraser said he's also learned that organizing shouldn't be a spectator sport relegated to staff. Rank and file members need to also start talking to non-union tradesman about the benefits of being in a union. "Everybody can be an organizer. We've got 260 members who can be organizers." He said. "Everybody knows that person next door or the person sitting in the pew behind you in church who's an electrician. If you're an electrician and they're an electrician, you've got something in common. Ask them how their job is going, ask them how their pension is and start a dialogue."