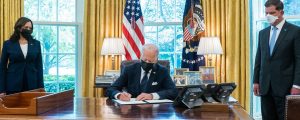 Flanked by Vice President Kamala Harris and Labor Secretary Marty Walsh, President Joe Biden signs an executive order Monday creating the historic White House Task Force on Worker Organizing and Empowerment. Cabinet members and top advisors comprise the task force, with Harris as chair and Walsh as Vice Chair. They have 180 days to recommend ways the government can foster union growth, as prescribed by federal labor law that has been ignored for decades.
A new White House task force is charged with making sure the federal government acts to promote unions and collective bargaining, the first mission of its kind to fulfill the nearly century-old promise of the National Labor Relations Act.
President Joe Biden launched the White House Task Force on Worker Organizing and Empowerment on Monday, naming Vice President Kamala Harris as chair and assigning the majority of his executive Cabinet and additional economic, domestic and climate policy advisors to serve as members.
Biden is giving them 180 days to deliver recommendations to "mobilize the federal government's policies, programs, and practices to empower workers to organize and successfully bargain with their employers."
The historic directive drew swift praise from labor leaders.
"This unprecedented task force —involving almost all of the highest-ranking people in the executive branch — is President Biden's most comprehensive approach yet to lift up workers and unions," International President Lonnie R. Stephenson said.
"He knows that stronger unions are the path back to America's middle class and a thriving, just economy," he said. "The magnitude of his efforts can't be overstated. We've literally never seen anything like it."
Biden, who pledged to be the "most pro-union president you've ever seen," added to a long list of pro-worker initiatives on Tuesday by signing an executive order requiring federal contractors to pay a minimum $15 wage.
The increase will benefit hundreds of thousands of workers who clean and maintain federal offices, care for the nation's veterans as nursing aides, work in staff cafeterias and feed the military, and build and repair federal infrastructure.
Forcing the hand of government contractors might not be necessary today if the government had lived up to words enshrined in Article 1 of the NLRA, which Congress passed in 1935. On paper, at least, it became federal policy to encourage union organizing and collective bargaining, "not to merely allow or tolerate them," as the White House put it in a statement announcing the task force.
Although some administrations took action over the past 86 years to support the NLRA's goals, none tried anything on the scale of the Biden task force's objectives.
The executive order creating the task force explicitly links federal inaction to decades of declining union density, even while polls indicate that 60 million Americans would join a union if given the opportunity.
"This decline has had a host of negative consequences for workers and the economy, including weakening and shrinking America's middle class," the order states. "Meanwhile, some workers have been excluded from opportunities to organize unions and bargain collectively with their employers by law or practice, and so have never been able to build meaningful economic power or have a voice in their workplaces."
To turn that around, the White House is asking the task force to propose ways that the federal government can:
Lead by example as a model employer with respect to encouraging organizing and collective bargaining among its workforce.
Facilitate public- and private-sector organizing across the country through the government's policies, programs, and practices.
Increase worker power in underserved communities by addressing the particular challenges in jurisdictions with restrictive labor laws; the added challenges faced by many women, people of color and other marginalized workers; and barriers to organizing workers in certain industries.
Increase union membership across the United States to "grow a more inclusive middle class and provide workers the opportunity to come together for the purpose of mutual advancement, the dignity of worker and workers, respect, and the fair compensation they deserve."
The 24-member task force includes Labor Secretary Marty Walsh as vice chair, along with the secretaries of Treasury, Defense, Interior, Agriculture, Commerce, Health and Human Services, Housing and Urban Development, Transportation, Energy, Education, Veterans Affairs, and Homeland Security; heads of the EPA, General Services and the Small Business Administration; the U.S. trade representative; and other key advisors.
Members are urged to seek input from the National Labor Relations Board, the Federal Labor Relations Authority and similar boards and commissions, as well as labor unions, other worker advocates and researchers.
While their role is advisory-only, the White House says the recommendations they make six months from now will be critical to Biden's decisions about changes to federal policies, practices and programs.
As chair, Harris posted on social media that she's eager to help workers build power. "Every worker deserves the choice to join a union — and our country is better when more workers are union members," she said.