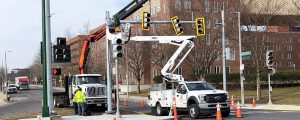 Traffic signal management across Maine has been largely nonunion for decades. That's about to change, thanks to a successful relationship-building effort across the IBEW's Second District.
A multiyear, multimillion-dollar project to modernize traffic signals in Maine is set to give the green light to a wealth of work for scores of IBEW members.
"It really is the biggest signal job in the state, and there's more going on than just lights," said Second District International Vice President Mike Monahan. "Our members will also be putting in Bluetooth technology to help driverless cars communicate with the signals in the future."
For the last few decades, traffic signal management in Maine, at the municipal, county and state levels, has been almost completely nonunion, Monahan said, and recapturing that work is a top priority for the state's inside construction locals.
"It sounds like a bunch of intersections are going to be updated, at least to begin with," said Augusta Local 1253 Business Manager Chuck Fraser. "Even though we're busy — from an explosion of solar projects to the construction of a salmon farm — we definitely welcome the chance to bring new work like this into the IBEW."
According to the Portland Press Herald, the state owns around 800 traffic signals but only directly maintains a fraction of those at present, with the rest handled by the localities. The Maine Department of Transportation is looking to take responsibility for every one of them.
Jim and Maureen Dagle, the owners of signatory contractor Dagle Electrical Construction, won the bid to get the work. One of the biggest challenges, they said, will be replacing the relatively old equipment throughout the state.
"Traffic signals even 15 years ago were functional, but they were very simple and not very sophisticated," Jim Dagle said. "Modern traffic signals need to do a lot more, to learn."
Advanced traffic controller systems like the ones planned for installation in Maine can capture and react to real-time traffic and signal data, while detecting and reporting gridlock-causing traffic problems and monitoring intersections via an always-on internet connection.
Monahan is confident that the Massachusetts-based contractor is the right fit for the job. "I organized Dagle in Boston almost 20 years ago, when I was still at [Boston] Local 103," Monahan said. "Prior to Dagle becoming a signatory contractor, 90% of the streetlight and traffic signal work in the state was nonunion. In large part because of Dagle, it's been flipped upside down, and the IBEW is doing over 90% of that work now."
But that didn't happen overnight, Monahan said. "It's important to emphasize that due to changes with Local 103's referral system, Jim, Maureen and I were able to handpick their workforce, which started with about 10 employees and is over 200 today."
Officials at MaineDOT were well aware of Dagle's successes in the Bay State and encouraged the contractor to bid on its upgrade project. So did Monahan.
"I noticed the IBEW had zero bidders in Maine for this work," Monahan said, a project estimated to be worth $160 million over 20 years. "Because of our longstanding and successful relationship with Jim and Maureen, I was able to convince them to take a look at it."
Naturally, Monahan also sought the assistance of Local 1253's Fraser and Jim Valente, Fraser's counterpart at Portland Local 567.
"We're always training and trying to organize," said Valente, whose busy local is working on an Abbott Laboratories facility for manufacturing rapid COVID-19 tests, plus an expansion of Portland's Mercy Hospital. "We're looking forward to bringing more union jobs our way."
"Mike absolutely wanted the work, and he wanted to understand what the locals in Maine needed from him to get it," Jim Dagle said. "Chuck and Jim have been really receptive to us, and that's good, because contractors really need the local unions on board to get the work."
Another thing that makes Maine attractive and competitive is that it's one of 29 states that offer a prevailing wage, which sets a fair standard of pay and benefits for contractors and workers that stays in line with what local businesses normally would provide for similar private sector work.
While the IBEW waited for Maine to select a winning bid, the Dagles went ahead and set up a shop there. "We've probably worked on 10 intersections in the state over the last year," Jim Dagle said. "They eventually want to try to take it on wholesale, with more than 100 intersections to start. That's a big challenge."
There are other challenges, too, he said. "Putting electricians to work in live traffic is different from regular inside construction," Dagle said. Start and stop times have to consider commuter convenience, for example.
"You're almost closer to being a lineman than an inside wireman, but that skillset translates well," he said. "With the right labor, these are not big hurdles. The IBEW has the best trained people. You've been teed up to be successful."
Generally, the more tech there is in transportation — such as solar-power arrays and battery storage at the signals — the higher the potential for maintenance work there for IBEW electricians.
"My goal is to have at least 20 IBEW members working at the start, and to grow things out from there," Dagle said. "Normally, you have up to five workers per intersection and if you have a lot of intersections all at once, you can keep crews hopscotching."
And the contractor does not sub out any of his work, Monahan noted. "From backhoe to duct banks, the work will be performed 100% IBEW," he said.
Dagle sees the longtime collaboration with the IBEW as completely positive: "If the union wants the work, they know that the contractors know how to get it. You've got to be able to have that dialogue."
"It comes down to building relationships with employers," Monahan said, "delivering on your promises, organizing more workers and helping contractors like Dagle grow."